Summer is an opportune time for al fresco dining, late-night bars, frozen treats, star gazing and outdoor performances. This is New York City, so enjoy it all.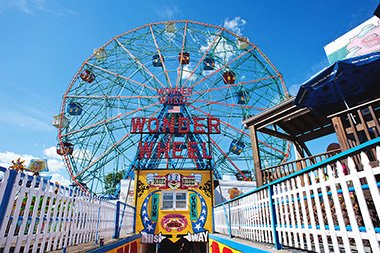 The season of summer is a driver to kick back at a rooftop bar. Open until midnight on Sundays and until 4 a.m. every other day, 230 Fifth Rooftop Bar boasts the largest outdoor rooftop garden in the city. With large umbrellas, partial heating and an enclosed penthouse lounge, this hot spot is prepared even when summer weather is uncooperative. On Father's Day, a buffet brunch is served. This venue is also a winning choice for the Fourth of July with a barbecue meal against a backdrop of fireworks. VU Rooftop Bar, located at 17 W. 32nd Street, is heated year-round. A block away from Times Square with a striking view of the Empire State building, VU is known as a well-priced indoor/outdoor bar to relax with friends over a beer and flatbread pizza. The establishment is open every day until midnight. For happy hour, get there early as it does draw crowds.
If high altitude is not your fancy, stay grounded with a movie at Bryant Park. During the summer, this infamous, massive space is home to the HBO Bryant Park Summer Film Festival. Join the crowd on the Lawn when it opens at 5 p.m., spread a blanket and settle in for a movie shown at sunset. There are plenty of concession stands to pick up a snack along the way.
New Yorkers know it is summer with the launch of The New York Philharmonic Concerts in the Parks program, a summer tradition throughout the five boroughs of New York where friends and families gather to picnic, gaze at the stars and listen to classical music. These free performances begin at 8 p.m. with fireworks to follow in Van Cortlandt Park, Central Park, Cunningham Park and Prospect Park. On Staten Island, the performance takes place indoors at the Music Hall at Snug Harbor.
Whether your pleasure is frozen yogurt, gelato or traditional ice cream, a frozen treat in the sweltering heat is the ultimate summer delight. A La Mode, located at 360 East 55th Street, stands out for its kid-friendly environment. This family-owned shop takes credit for offering the first 100 percent nut-free ice cream in the city. In addition, their ice cream is egg-free and sesame-free. Gluten-free and dairy-free are options as well. Parents and children go wild for the unique flavors such as cotton candy blue and for the designated play area inside the shop.
Summertime has earned a reputation as a time of overindulgence in everything from the sun to cocktails to ice cream to shopping. After a winter freeze and rainy spring, before the fall turns crisp and the pressure builds to prepare for the holidays, this is the season to wind down and live it up. For that, the city is the best place to be.