After a long, cold winter, the spring season inspires a blithe spirit that propels New Yorkers to stroll on The High Line, picnic in Central Park and peruse the new spring fashions along Fifth Avenue.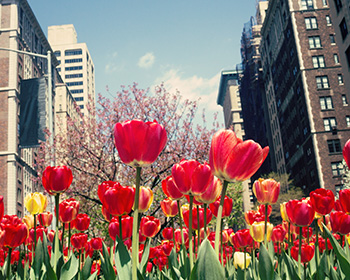 Spring is the time to get active again and work off the indulgences of the winter holidays. From playing beach volleyball in Tribeca to biking in Central Park to practicing tennis skills at one of the city's outdoor public tennis courts, this is the season to get energized. A unique biking experience is the two-hour Leisure Central Park Bike Tour. Tandem bikes, baby seats and baby trailers are available. Tour attractions include Strawberry Fields, Shakespeare Garden and Onassis Reservoir.
For an evening retreat, get on board the New York City Lights Dinner Cruise. The yacht is luxurious, and the views are spectacular. The three hour cruise includes a four-course gourmet meal and dancing. If it's a special occasion, splurge and add the open-bar option.
DanceFest is an annual dance parade and festival that takes place each May, run by Dance Parade, a non-profit organization promoting dance and cultural diversity. Thousands of performers parade their way down Broadway, some on floats and others dancing in the street in the order that each genre was born. The wide range of styles include African tribal, Irish step, English country, Brazilian samba, ballet, ballroom, swing, hustle, salsa and urban dance. The parade culminates with a festival that features a stage show, rolling performers and free public dance workshops.
Since 1994, Taste of Tribeca has been a spring celebration that benefits the arts and enrichment programs of Tribeca public schools. In addition to a wide range of cuisine from local restaurants, the event offers wine and beer tours, live entertainment and kid-friendly activities. This is a foodie's favorite, so it gets crowded. Make it a family gathering, and buy tickets in advance.
Fleet Week, scheduled for the last week of May, is a time-honored tradition that reveres U.S. sailors, marines and coast guardsmen. Sea services are showcased through exhibits, military band concerts and aviation demonstrations. Watch the ships come into New York Harbor, attend the free Navy Band Northeast concert in Central Park, and take a selfie with a sailor.
For a lazy day in the sun, grab a gyro, find a bench and admire the flowering trees in full bloom in Washington Square Park. Now, before the heat of summer kicks in, is the time to soak in the renascence of spring in New York City.