The broad spectrum of bars in New York City, each with its own personality and rhythm, is integral to the city's nightlife. Local bars also serve as venues to transition between work and home or to meet up with friends between events. Then there are the league of hotel bars; a niche all its own.
Bars draw crowds wanting to socialize, wind down or get a little loud. Maybe reading should be added to that list as well. Hudson Hotel, at 358 West 58th Street, is home to the Library Bar and the Hudson Bar.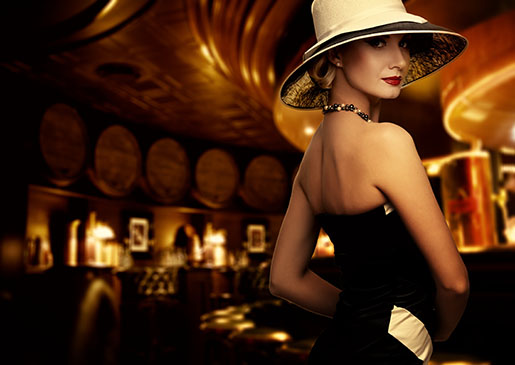 The Library Bar is for discerning patrons who appreciate a private-club setting, inclusive of a prominent fireplace, sweeping book collection and leather wing chairs. Cocktails conjoin with live jazz every Tuesday at 8:30 p.m. Hudson Bar exudes refinement and polish with soft lighting and candles aglow.
In the Flatiron district, another choice bar is located in the NoMad Hotel at Broadway and 28th Street. This hip and trendy saloon showcases a posh, expansive mahogany bar and rich leather chairs against an art deco backdrop. The dark wood paneling gives it the feel of an exclusive club. In addition to classic and specialty cocktails, NoMad Bar features a menu with seasonal produce along with traditional pub food. The chicken pot pie is infamous. Though the bar's magnetism draws big crowds, there are several seating areas; the main bar and more secluded areas on the upper level.
The Manderley Bar at the McKittrick Hotel in Chelsea is a concert hall and cocktail lounge with after-hours cocktails and live jazz. For a more subdued cocktail hour, Mr. Purple on the rooftop of Hotel Indigo in the Lower East side is ideal. From this restaurant/bar, enjoy the view of the Freedom Tower and the Empire State Building. There is an indoor space as well, open year-round. Come back to ground level and head up to the Upper East Side to Bemelmans Bar. The old-world style of this piano bar, located in the Carlyle Hotel, is luxurious. Just like the children's books written and illustrated by its namesake, Ludwig Bemelmans, this bar is a winsome and timeless classic. Andy Warhol fans may prefer the Rose Bar located in the Gramercy Park Hotel. Enjoy a rotating display of 20th century artwork and performances by A-list entertainers while lounging on velvet-upholstered furniture.
The fervid bar culture in NYC is well-known, but residents and visitors who inadvertently overlooked hotel bars in the past should gear up for a red-letter experience.