Extended-stay travelers sometimes face challenges in maintaining a fitness regimen. Breakfast meetings, working lunches and client dinners can sabotage the resolve of fitness enthusiasts. Fortunately, there are a multitude of options in New York City to support health-minded individuals. Staying in corporate housing with a state-of-the-art, fully equipped fitness center helps too.


The New York City Department of Parks and Recreation is a useful resource for recreation houses, field houses and community centers in NYC. Extended business travelers may find field houses ideal since membership is not required. Some centers offer a six-month membership. Morningside Field House in Manhattan has an outdoor basketball court and Betsy Head Field House in Brooklyn hosts free aerobics classes. Day passes are available at the Flushing Meadows Corona Park Aquatic Center in Queens, which has an indoor hockey rink and pool, and is open daily.BeFitNYC is the source for free and low-cost fitness options in NYC. Across 35 recreation centers, find swimming pools, weight rooms, sport facilities and exercise classes.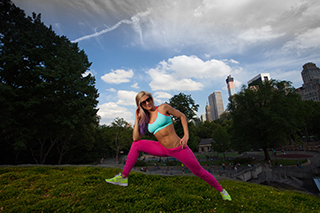 As the temperature climbs, take advantage of the free fitness events in the city. Morning Fitness at Fort Tryon Park combines walking, stretching and strengthening in a one-hour program on Tuesday, Thursday and Saturday mornings. The Van Cortlandt Track Club runs along the border of Bronx and Yonkers every Saturday at 8 a.m. Groups are broken out to accommodate different paces and distances.

Those who think hiking is limited to mountainous areas may be surprised to learn about New York's Urban Park Rangers who provide guided hiking tours. Upcoming night hikes include Lantern Night Hike in Central Park and Hunter Island Night Hike in Pelham Bay Park in the Bronx.

Independent walkers and joggers abound in Central Park, the High Line and Riverside Drive. Known for its infamous walking and running paths where celebrities get their exercise, Central Park also provides fitness equipment at its North Meadow Recreation Center. The High Line is an elevated park that runs about 1.5 miles. Rich in history with scenic views, this locale is a fun place to stretch your legs. Riverside Park overlooks the Hudson River, and contains a range of recreational facilities as well as the Manhattan Waterfront Greenway where biking is popular. Find fun in fitness with baseball fields, roller hockey, tennis courts and running tracks.

The 92Y on the Upper East Side is a community center with a 25-yard indoor lap pool, weekly exercise classes, a basketball court and personal training. Free trial memberships and day passes are available. The facility will even help pair you up with a workout buddy, a great feature for those that need a little social motivation. For those traveling with children, it's good to know there are fitness programs for kids too.

Finding the time to stay active on business trips may seem impossible but it is time while spent. A strong sense of well-being increases sagacity, reduces stress and empowers you to be at the top of your game. Schedule an activity you enjoy into every day of your extended stay and return home without having to backtrack your fitness routine.