The Carnegie Club is a two-story cigar bar in midtown Manhattan that transcends time. Decorated with 18th-century bookcases, plush and colorful lounge furniture, and photos of cigar-smoking icons such as John F. Kennedy and W.C. Fields, this gathering place invites clientele to spend a few hours in yesteryear.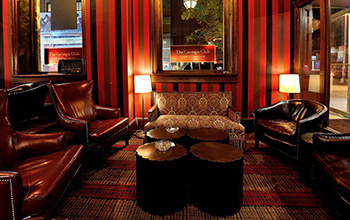 Assimilate the dim lighting, black and red walls, high ceilings and crafted bookcases, and imagine looking into the window of a bygone era. The Dean Martin soundtrack in the background contributes to the ambiance. During live jazz performances surrounded by cathedral-style windows on the lower level, imbibe a house specialty cocktail and smoke a high-quality cigar. The club is staffed with tobacconists who offer fine cigars, which are preserved in a glass-enclosed humidor. Bringing your own cigars is permissible, but the $10 tobacco minimum applies.
For the nightlife crowd seeking a debonair and insouciant setting to feel carefree and elegant at the same time, The Carnegie Club is a great find. The relaxed tone is a refreshing change from the opprobrious behavior often found in rowdy bars throughout the city. The club draws patrons who simply want quiet conversation mixed with robust cigars, fine liquor and light fare.
Soak in the mystique as the bartender cuts and lights your cigar, a champagne cork pops in the background, and waitresses, adorned in retro black dresses with pearls, serve with precision. There's an undeniable aura of old-world charm and romance. When I was there looking around at the diverse crowd, I observed an older gentleman in a fedora sitting in one corner and, nearby, an attractive younger woman who sat smoking alone. She eventually struck up a conversation with him. The environment is conducive to happenstance.
The Carnegie Club
is located on 56th Street, between 6th and 7th Avenues. Dress styles range from business casual to upscale vogue. Hours extend until 2 a.m. six nights per week and 1 a.m. on Sundays. The highly-acclaimed Sinatra show features a vocalist backed by an 11-piece orchestra. Make reservations for one of their two Saturday performances; 8:30 p.m. and 10:30 p.m. Some people stay for both!