New to New York City and itching to visit some museums? Here's a guide to 5 great museums to visit in NYC.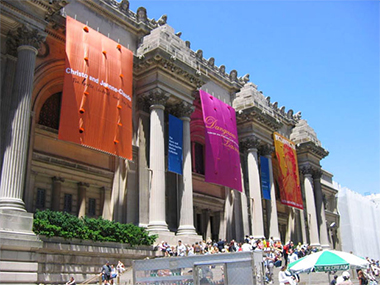 Metropolitan Museum of Art

If you're in New York City, one museum you must definitely visit is the Metropolitan Museum of Art. Also known as The Met, it's one of the largest and most visited art museums in the United States.
The Met houses an incredible scope of art. It includes works from Classical Greek to Ancient Egypt and modern America. The collections span over 5,000 years, and house 2.2 million artworks. The museum's massive—odds are you won't be able to see it all in a day, but guided tours are also available. You can learn more about the Met at: http://www.metmuseum.org/

New-York Historical Society Museum

Interested in history and art? Then you'd enjoy visiting the New-York Historical Society, an American history and library located in Manhattan. As the oldest museums in New York City, New-York Historical Society is "dedicate[d] to fostering research, presenting history and art exhibitions…that reveal the dynamism of history."
New-York Historical Society Museum houses over 1.5 million artworks, including those of the Hudson River School. It is also a library, and contains over three million books, newspapers, manuscripts, prints and photographs. If you're fascinated or curious about American history, then I'd recommend visiting the New-York Historical Museum.

American Museum of Natural History

Located right across from Central Park is the American Museum of Natural History, the largest natural history museum in the world. The museum spans 4 city blocks, and includes 25 city buildings!
The American Museum of Natural History displays over 32 million specimen and artifacts, with, plants, animals, marine creature, human remains, dinosaurs and insects. The collections highlight Earth's species, of life in the past and life in the Universe.

Whitney Museum of American Art

The Whitney is a contemporary art museum devoted to presenting modern art in the US. The museum focuses on displaying the work of living artists; works are primarily from the 20th and 21st century. There are over 20,000 paintings, drawings, prints, films and photographs at the Whitney, which houses the Biennial exhibit, "the country's leading srvey of the most recent developments in American Art."

Museum of the City of New

Learn about the art and history of New York City at the Museum of the City of New York. The museum celebrates New York City's heritage, history and transformation.
There are over a million items in the museum. There are photographs of NYC residents, paintings, furniture, toys, manuscripts and military collections. It includes furnished rooms from John D. Rockefeller's house, and dioramas about the city's history. It's a great museum to visit if you're a fan of New York City and curious about its history and culture.