Independence Day is less than a month away and New York City is gearing up for their fun summer time events that will have you feeling contently patriotic. NYC has so much to offer all summer long so it's fitting to kick off the season and celebrate our freedom with events like firework displays, hotdog eating contests, and history walking tours. If you haven't already, make sure to research credible short term apartments in NYC so your trip will run as seamlessly as possible. Here's your guide for all things to do in the big apple this Fourth of July.
Macy's Fourth of July Fireworks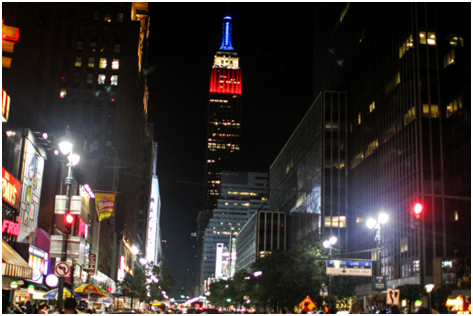 Macy's is known for putting on amazing events all year long. Their fireworks show is one of the most famous in the world. The event takes place annually on the 4th of July and is displayed over the East River at 9:20pm, lasting for about half an hour. The fireworks are set off from barges in the river near Pier 17, and in between 23rd Street and 37th Street. If you want a gorgeous view of the display with the backdrop of the Manhattan skyline, head over to Brooklyn Bridge Park or Brooklyn Heights/Brooklyn Promenade early to grab a spot to see the Macy's fireworks and the Jersey City fireworks simultaneously.
Jersey City Freedom & Fireworks Festival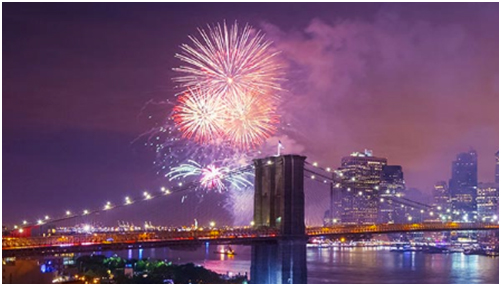 Located at Liberty State Park, the Third Annual Jersey City Freedom & Fireworks Festival provides a packed day of live music, entertainment for the whole family, carnival rides, and an array of food and drink options. At 9:30pm there will be a breathtaking display of fireworks highlighting the Statue of Liberty, Ellis Island, and Manhattan. Everyone from both sides of the Hudson River is invited to join in on the 4th of July festivities.
Nathan's Hot Dog Eating Contest

Every Fourth of July at the Nathan's flagship restaurant in Coney Island, crowds of thousands flock to see the "most unique sporting competition in the world." To some, consuming tens of hotdogs would be nauseating but it is interesting to watch in any case. The 100 year old competition prides itself on being "uniquely American as it is Nathan's," so go down to Brooklyn to celebrate our freedom and watch the pros scarf down as many hotdogs as they can. Maybe you can even catch a glimpse of last year's winner, Matt Stonie, who ingested a total of 62 hotdogs.
Revolutionary War New York "Nighttime" Tour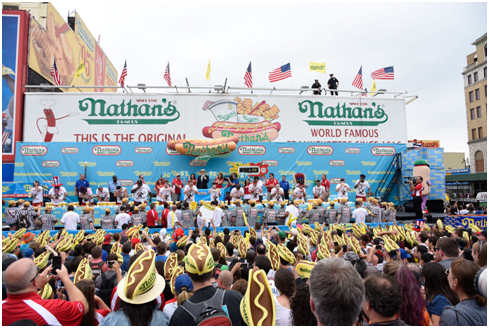 With the Fraunces Tavern Museum you can take a 3-hour walk through history around Lower Manhattan. Kick off your Independence Day at 4:30am (so it's actually a morning time tour…) and learn about New York's pivotal role in the American Revolution and the war heroes who are buried here. What better way is there to respect our nation's history? Tickets are
on sale
now through June 28th, so snag yours soon before they sell out!
New York Mets Game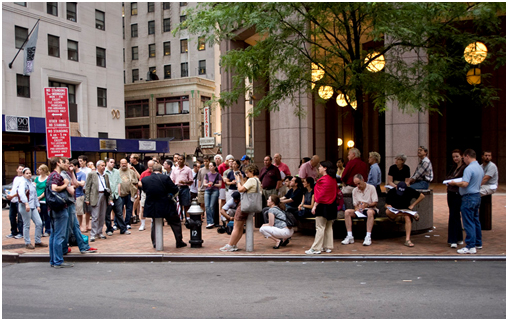 Spend your Fourth of July watching America's pastime as the New York Mets take on the Miami Marlins at 4:10pm. Citi Field is the perfect place to drink a cold one and root for the home team on a beautiful summer day. You can grab your tickets
here
and start getting excited to snack on some cracker jacks and watch the National League champs beat the Marlins.
Mighty Quinns BBQ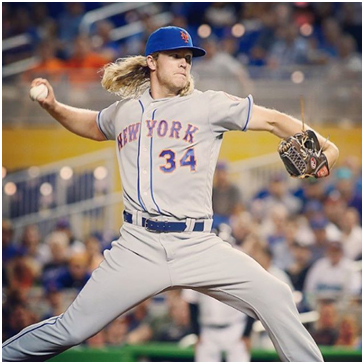 Backyard 4th of July barbeques are hard to come by in New York so we make due with what we have, and what we have are delicious barbeque restaurants. With
various locations
all over the city, Mighty Quinns BBQ provides an authentic experience in a laid back and casual setting. You can eat their delectable barbeque dishes while feeling good that all of the wood (tables, bars, wall surfaces) in the restaurants were constructed from numerous renovation/salvage projects around the city. Check out some of their great food this Independence day.
Free Summer Movies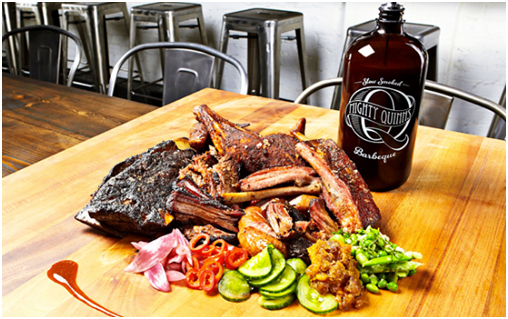 Brought to you by the NYC Parks Department, this 4th of July there will be a screening of Top Gun starring Tom Cruise at Bryant Park. Bring a blanket and relax on the lawn to enjoy your holiday with friends, food, and a cartoon feature before the film. You can start setting up at 5:00pm and the movie will begin once the sun sets (between 8:00pm and 9:00pm). This is the perfect way to wind down your Fourth of July with a classic American film. There will be free summer movies all season long around all 5 boroughs. For a complete list of movies, times, and locations, visit
NYC Government Parks.
New York Spectacular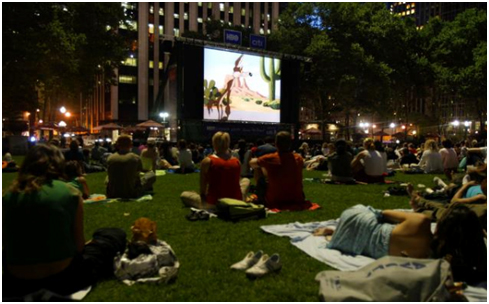 Radio City is mostly known for it's Christmas Spectacular, but this July you can see their summer performance telling the story of a brother and sister who get lost during their family vacation. Some of NYC's famous landmarks come to life in this show such as the Wall Street Bull and Central Park's Alice in Wonderland. "It's like seeing New York City through the eyes of a child for the first time," so grab your tickets and bring the whole family to see the kind of magic that can only take place at Radio City Music Hall. New York Spectacular runs from now until August 7th so don't miss your chance to make your summer extraordinary!
French Restaurant Week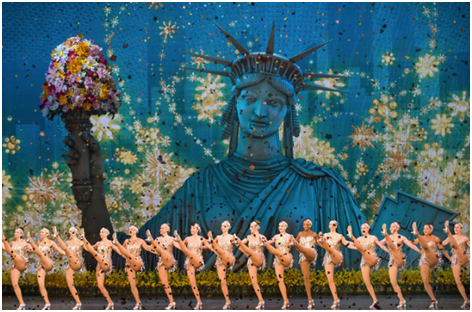 The Fourth of July kicks off French Restaurant Week in NYC where you can try out different restaurants specializing in great foods from our allies in the Revolution. This festival originated in 2011 and since then, it has featured over 120 delicious French restaurants. During the week you can enjoy special prix-fixe menu options for dinner and in some cases lunch. Spend your time tasting the best wines, cheeses, and French dishes for a relaxing and enjoyable New York experience.
New York City is the best destination to celebrate your Independence Day this July. You can't go wrong staying in NYC with it's amazing history, firework displays, entertainment, food, and short term housing rentals. This guide has set you up with the best things to do this July 4th so you won't feel dull in the city that never sleeps.