Museums are educational, inspirational, traditional and sometimes non-traditional. In New York City, there are many galleries and exhibitions to explore.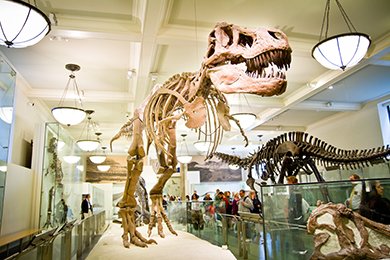 It would be a veritable sin to be in NYC and not visit the Metropolitan Museum of Art, located at 1000 Fifth Avenue. Since it's the largest art museum in the United States, plan to spend a whole day entrenched in ancient Egyptian antiquities, Greek gods, paintings and sculptures. The Met is the gold standard for art collections, which range from ancient to contemporary. In addition to world-renowned exhibitions and diverse artworks, there are several ongoing programs and events. Register for a studio workshop to create your own art, bring a sketchbook and pencil to a Drop-in Drawing class, or join a family-friendly Sunday Studio program to experiment with different art forms. The Met Fifth Avenue is open seven days per week. Admission prices are suggested but left to your discretion.
The Met is the proud parent of The Met Breuer and The Met Cloisters. Tickets to The Met include same-day admission to all three museums. Marcel Breuer designed the building on Madison Avenue and 75th Street that houses his namesake. The Met Breuer showcases 20th- and 21st-century art, performances and educational initiatives. The Cloisters, located in Fort Tryon Park, offers a window to the world of medieval Europe with its majestic architecture and sculptures. Envision life in the Romanesque and Gothic periods as you walk through stone archways into courtyards with gardens in full verdure.
Other famous institutions include the Museum of Modern Art, the American Museum of Natural History, the Solomon R. Guggenheim Museum and the Whitney Museum of American Art. The Museum of Jewish Heritage, Museum of Chinese in America, American Folk Art and Hispanic Society of America all reflect the acculturation of New York. In many cases, the admission is no more than a suggested donation, and others are much less expensive than people may expect.
For contemporary art, visit New Museum at 235 Bowery. This museum was founded in 1977 to support younger artists not yet established. It began as a venue to publicly display the work of unknown talent. Today, in addition to art exhibits, the museum offers varied tours, seminars and family programs.
To break with tradition, take a guided tour of The Museum of the American Gangster at 80 St. Mark's Place in the East Village. The historic site of a former speakeasy is the perfect backdrop to hear fascinating stories about the era of prohibition and the early days of organized crime.
The 9/11 Memorial Museum will tug at your heartstrings while sharing an important part of American history with video interviews, artifacts and photos. The story of the September 11, 2001 World Trade Center bombing, rescue and recovery unfolds through remnants, images and interactive technology.
History, cultural artifacts, architecture and modern art are all accessible to the public with the small price of admission, a sense of curiosity and an open mind.