Halloween brings out the child in everyone, and New York City is the ultimate playground. So when this holiday and the Big Apple conjoin, residents and visitors get the best mix of fright and fun.
NYC's Village Halloween Parade, held on October 31 in Greenwich Village, is well-known for its magical, animated, colorful and energetic procession. Giant puppets, floats, dancers and musicians are arranged and orchestrated by talented artists and technicians.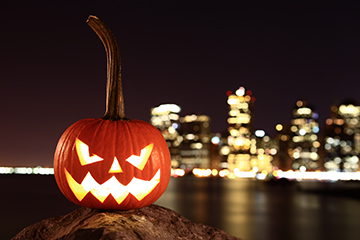 Whether joining the march or the sidelines, the experience is memorable and uplifting. Volunteers who want to offer their creativity behind the scenes can register for workshops to help build, assemble or operate the giant puppets.For thrill-seekers, Halloween wouldn't be fun without fear. There are many venues happy to oblige. This is Real is located in Brooklyn and boasts an interactive horror theater with a mind-bending survival game. No one under 18 is permitted, indicating it is not for the fainthearted. Another haunted attraction is Blood Manor, located on Varick Street. It promises an intense, creepy and scream-inducing journey through the house. Student discounts are offered, and those lucky enough to be a Halloween baby can enter for free with proof of a birthday on the day of admission.
For Halloween family fun, the Queens Botanical Garden hosts Halloween at the Garden. This is a day of botanical crafts, magic, dancing and face-painting. For pet families, there are events where the family dog can be included in the haunted merriment. Whether you own a pet or simply appreciate adorable dogs in costume, head over to the annual dog costume party and parade in Washington Square Park for a fun and friendly costume competition, artists, raffles, treat bags and vendors. The Carnegie Hill section organizes Halloween Spooktacular, a Halloween street party with a costume parade, art projects, candy, dancing and a live DJ. During the event, traffic is closed on 92nd Street between Park and Madison Avenues.
Stage48, a club in Times Square, holds an annual Monster's Ball. This is a costume party notorious for decadent Halloween fashion, celebrity DJs and an electric vibe. The expansive facility has three floors, several dance areas, huge bars and high ceilings. Buy tickets in advance and feel free to arrive in costume.
If you are on a short stay in the city during the Halloween season, experience it New York style while enjoying the luxury of a corporate apartment. Join the ebullient festivities and behold the artistry. Then, in the privacy of your comfy temporary quarters, wind down and binge on confectionery delights. Halloween is the perfect excuse for indulgence.