Classical music is New York City at its finest. Orchestras perform at a variety of concert halls each with its own style and grace. The music draws in a cultured audience, swept away not only by the masterpieces performed but also by the setting, which is often an experience in its own right. The locations for these events range from distinguished schools and state-of-the-art museums to palatial theaters and historic buildings.
Home to world-acclaimed performing arts institutions and music conservatories, NYC nurtures and molds young musicians. The Juilliard School, Manhattan School of Music and The New School-Mannes College of Music are just a few that select the crème de la crème following a rigorous series of auditions.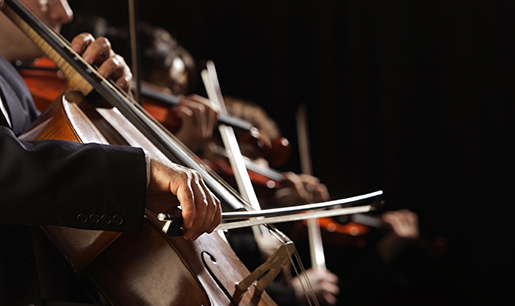 Music students are arduous and disciplined, and give back to the city tenfold in their performances as they evolve from disciples to masters of the trade. Free concerts facilitate training while audiences reap the benefits of enchanting orchestral music performed by fresh, ambitious talent.

The Orchestra Now (TON) is comprised of energetic young musicians from around the world. The orchestral group leverages this vigor to create music that is dynamic and relevant for today's audiences. The musicians enhance each concert-goer's experience through on-stage introductions of each piece and by mingling with patrons during intermissions. The orchestra is based on the campus of Bard College in Dutchess County, New York, and performs primarily at Richard B. Fisher Center for the Performing Arts. They also perform regularly at Carnegie Hall, Lincoln Center, The Metropolitan Museum of Art and the Rose Theater in Columbus Circle. TON's Around Town - Free Concert series includes concerts at The Great Hall at Cooper Union, Symphony Space and City College Center for the Arts at Aaron Davis Hall.
Another ensemble to keep an eye out for is ETHEL. Based in Manhattan, this renowned quartet is prized for taking classical music into another realm, crossing boundaries of style and execution to include multimedia. The group has appeared on stages across the globe. Back home in New York City, ETHEL performs at Alice Tully Hall in Lincoln Center, Park Avenue Armory, Brooklyn Academy of Music and The Metropolitan Museum of Art.
For those with limited exposure to symphonic works, orchestral music may be synonymous with mellifluous tones by old masters but lacking in the electricity of music in vogue. After attending a variety of concerts, some that include accomplished vocalists, instrumental innovation and familiar themes such as Herrmann's Psycho Suite and Gruber's Frankenstein, an appreciation for this genre will grow. Classical music is an ideal backdrop for the New York residence experience, filled with vibrant sights, sounds and artful performances combined with the majestic aura and historical richness of concert halls around the city.