There is a fervor growing around City Point as the one-stop shop for everything from retail and grocery shopping to dining, movies and hair grooming. The City Point marketers boast that this mega-project in Downtown Brooklyn takes the spirit of Brooklyn to new heights, and that can be taken literally. When construction is complete, one of the three buildings offering residential and commercial space will stand 57 stories above the roughly 700,000 square feet of shops, eateries and entertainment.
A salient part of the development is DeKalb Market Hall, a massive food space that proudly offers an eclectic array of culinary delights to accommodate every palate.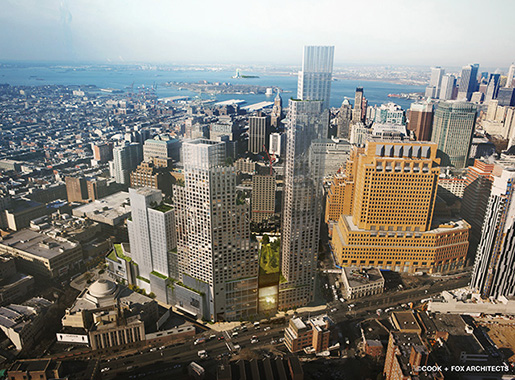 Vendors include Belle Cheese, Katz's Delicatessen, Fulton Landing Seafood, Pierogi Boys, Eight Turn Crepe, Two Tablespoons, Cafe D-Avignon and Pop Cake Shop. Century 21, Target and Trader Joe's are anchor stores in the mall, and the list is growing.Alamo Drafthouse is City Point's two-level dine-in cinema. More than simply a movie theater, Alamo features seven screens, 800 cozy reservation-only seats, and food and beverage service during the films. The Brooklyn Drafthouse also presents a cocktail bar, aptly named House of Wax for its glass-encased unique wax figures alongside the bar.
By the end of construction, there will be multiple levels of retail space. Over 15,000 square feet of space is dedicated for special events. The City Point complex is also expected to grow as a premier location for urban living as the three towers lease condos for both affordable housing and market rates.
Accessibility is one of this destination's assets. Entrances are located on Flatbush Avenue and Albee Square West. Icon Parking facilities are on Willoughby Street and Lawrence Street. Multiple subway stops are in close proximity, and the DeKalb Avenue subway station is right outside the door. So with ease of travel and open doors every day of the week, this all-encompassing recreation destination may rise to the top of your bucket list.