It's the holiday season in New York City, which means that the city's lighting up in stunning holiday decor—especially in Dyker Heights, Brooklyn. Of all the light displays in NYC, Christmas Light at Dyker Heights might just be the most extravagant.


Thousands of people, locals and natives alike, flock to the quaint neighborhood to see the glittering displays, from giant Santas to towering Nutcrackers and animatronic characters. The houses shimmer under thousands of lights; the displays are absolutely stupendous. Loudspeakers blast Christmas carols.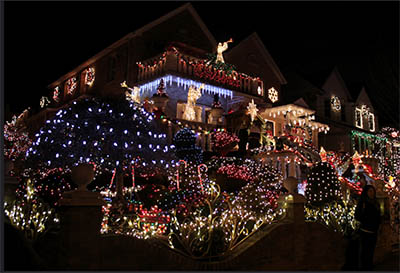 Guided tours through the festive neighborhood are available every night in December (except for Christmas day) at A Slice of Brooklyn. The tour lasts from 3-4 hours; tickets for adults are $50, while tickets for children are $40. Whether exploring the neighborhood on a tour bus or on-foot, be sure to bundle up, as it can get cold.

Although residents often set up decorations right after Thanksgiving, it's recommended that you visit Dyker Heights during mid-December. And while all 22 blocks of Dyker Heights can participate, the best displays are located at 83rd, 84th and 85th.Walking through the neighborhood's a fun way to get into the holiday spirit. Christmas Lights are Dyker Heights are a must-see during the holidays in New York City.