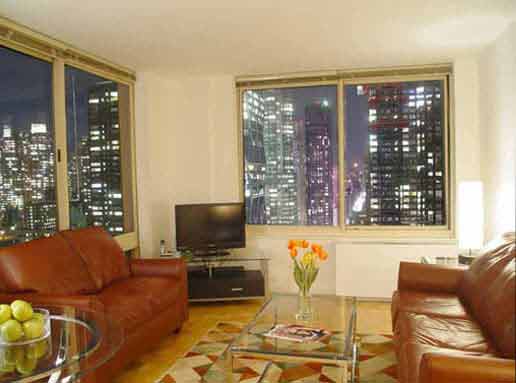 Location, Location, Location
ABA Temporary Apartments have more than six New York City locations which makes choosing where to stay a bit easier. We have two options in Midtown alone, Chelsea, FiDi, the Upper East and West Sides, and two locations in Brooklyn, and we warmly welcome you to stay with us.
Sleek and Up to Date
The temporary apartments here at ABA have a crisp and comfy feel to them. What makes these apartments so sleek, however, is how up to date our amenities are. By staying with us, you'll be provided with state of the art amenities, such as stainless steel appliances, flat screen HDTV's and iPod docks. And don't forget, our high speed WiFi is ready for your use.
Service
Do you like living in a clean environment without actually having to clean? No worries, with each of our locations there is a bi-weekly cleaning service to tidy-up for you. And please feel free to kick back after a long day with a movie or your favorite tv show with our extended cable, including HBO. You might also want to take a glance at the 'Sweet Dream Suites,' if you're looking for a more luxurious stay.
Affordable
Using corporate housing for your business needs is far less expensive than paying per night at a hotel, especially in Manhattan where the going rate is upwards of $300. Save your money and opt for a furnished apartment that has many of the same qualities, but for much less.
Unique Features
At our ABA locations you'll find that each has a unique focal point that makes it interesting. Whether it be the hip area you're in, like our Brooklyn location, or our garden deck at the Chelsea location, you'll find a place to escape. You'll also find a "spectacular outdoor Plaza" at the Park Avenue (Midtown East) location and our Financial District location has every interesting entertainment feature from virtual putting greens and billiards to a rooftop observatory.
Fully Equipped
Like to cook for yourself? No problem, your apartment has its own kitchen. Are you an avid fitness junkie? Please make yourself at home at our fitness centers. Our customers can also take advantage of the on-site laundry and dry cleaning facilities.
Going Green
You heard it here first, ABA is going green. Our company has been making strides in making this world a better place, starting within our facilities. We have begun to implement new, environmentally friendly light bulbs and towels, switched from plastic to wood hangers, and gotten serious about recycling!
Pet Friendly
Long business trips can be difficult and we understand that having a pet by a respective clients side makes for a more comfortable stay. Bring your pal along. After all, a month is a long time away from your best friend.
Clientele Versatility
Are you a traveler? Taking an extended vacation? Staying in NYC for the arts? Stay with us. Renovating your house? Looking for a new place? Stay with us. We welcome more clientele than just business trippers, and plus, it might be good to run into someone other than your colleague in the elevator.
Nationwide
Not only are there ABA locations throughout NYC, but have a stay at our locations throughout the country, as well. This includes, but is not limited to: Los Angeles, Miami, Boston, and Chicago.