The allure of a succulent high-grade cut of steak in a New York City eatery that radiates stately charm draws steak lovers from across the metropolitan area. While there are many places to get a steak, select restaurants in NYC have earned patronage from even the most discerning clientele.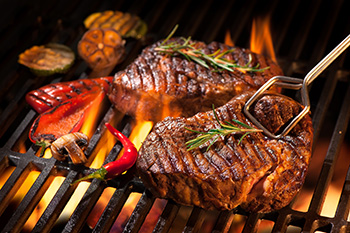 Enter Gallagher's Steakhouse at 228 West 52nd Street to see a meat locker on display and a full bar that has a history of its own. The restaurant has been in existence for over 85 years and has maintained its authenticity throughout restoration. Rib-eye, sirloin, lamb chops and other cuts are cooked to perfection. Well-seasoned sides such as Brussels sprouts, broccoli and asparagus round out the meal. Steak sauce is homemade. Although desserts are phenomenal as well, it's unlikely many people will have room as portion sizes are ample and the bread basket is hard to resist. The service is top shelf with knowledgeable and attentive waitstaff. Reserve a corner booth for a cozy dinner with a special dining companion.
Satisfy your inner carnivore, and imbibe breathtaking city views at the same time. Del Frisco's Double Eagle Steak House on Sixth Avenue is an upscale, luxurious three-story structure with an extensive wine display and selection, and impressive floor-to-ceiling windows. The steakhouse is well-known for its juicy steak as well as exquisite seafood. The menu includes gluten-free options. There are several rooms available for private events. Host a party in Del Frisco's wine cellar, which includes a private bar.
Keens Steakhouse at 72 West 36th Street is the embodiment of old world charm where classic dry-aged steaks and meat are proudly served. The menu includes Keen's Legendary Mutton Chop, Chateaubriand Steak, and Steam Maine Lobster with Filet Mignon. A pub room offers a distinct menu that includes Steak Tartare. The names of banquet rooms reserved for special events reflect the remarkable decor: Bull Moose Room, Lambs Room, Lillie Langtry Room and the Lincoln Room. Keens Chophouse opened in Herald Square in 1885.
The highly rated Peter Luger Steak House in trendy Williamsburg, Brooklyn, is a classic and has a history that predates the Williamsburg Bridge. The menu includes steak for two, three or four, served on a massive platter with homemade steak sauce and a bread basket. Luger's signature dish of German fried potatoes is a tasty complement. The restaurant is an institution in Brooklyn with an old-school wood decor.
For the astute steak devotee, feasting on a prime cut of meat is more than just about having a meal. It's about the linens, mahogany, chandeliers and fine wine. NYC's choice restaurants raise the bar with an experience to relish as well as steaks and chops that explode with flavor.